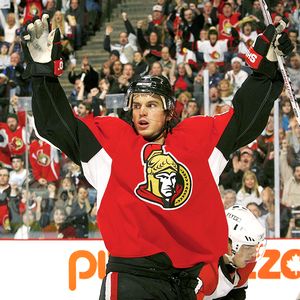 Welcome to the first ever Ultimatum. Tonight, we discuss what to do with our scoring issues. The Ultimatum will be all about what do with our problems. Here we go!!!
Antoine Vermette. This guy has scored an average of 25 goals each year. Decent, I guess. But for a second line centre? Not so good. I think it's time that we trade him. Teams want him. Vancouver wants him because they believe anything can happen if he is in a line iwth the Sedin Twins, just ask Anson Carter. Florida wants him because Jacques Martin knows he can score 40 goals.
Who can the Sens get in return? Alex Burrows, who has been on fire this season and was a real key component last year. Stephen Weiss is Florida's franchise player once Bouwmeester leaves, and has really stepped it up the past years. David Booth is another name, he was amazing last year and continues tearing it up this year.
I think a trade the Florida for David Booth would be logical. What do you guys think?
Thanks For Reading!!!
0 Comments: