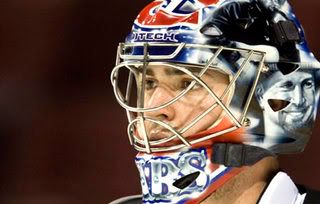 You will lose Price! LOOOOOOOSSSEEEEEE! Well the season is over, and there will be no playoff hockey in the Nation's Capital this year. Even Binghmton collapsed and finished the season in 5th in the East Division, 1 point behind the Philadelphia Phantoms, who occupy the last playoff spot. There are many Bingo fans who are mad at Bryan Murray but maybe I'll do that at a later time.

I've been told from a few sources that the Ottawa Senators will see many of their players heading to Switzerland for the World Championships. Dany Heatley, Jason Spezza, Chris Phillips, and Alexander Auld will be representing the Red and White. Nick Foligno and Ryan Shannon will be with the USA. Jarkko Ruutu will play for Finland, Anton Volchenkov will suit up for the Russians, and Christoph Schubert will play with the Germans. Meanwhile, here are my predictions for who will make Team Canada.

C Stephen Weiss
C Derek Roy
RW Jason Pominville
LW Dany Heatley
C Jason Spezza
RW Jamal Mayers
C Todd White
LW Martin St.Louis
C Steven Stamkos
C Jason Arnott
LW J.P. Dumont
C Mike Ribeiro
RW Shane Doan
D Jay Bouwmeester
D Brent Burns
D Sheldon Souray
D Shea Weber
D Chris Phillips
D Luke Schenn
D Ian White
G Dwayne Roloson
G Marty Turco
G Alex Auld

So the lines would look something like this...

Heatley - Spezza - Doan
St. Louis - Ribeiro - Pominville
Dumont - Roy - Mayers
Arnott - Weiss - White
Stamkos

Bouwmeester - Souray
Phillips - Schenn
Weber - Burns
White

Starter- Roloson
Backup- Turco
3rd String- Auld

What'ya think of them?

EDIT: Yeah, I didn't pick Mike Fisher. He was actually very close to making it for me, as I was deciding between Fisher and Stamkos for that 13th Forward position. alas, Stamkos is new breed and just what Canada needs, not a pretty boy like Fisher. Plus, Mike can know enjoy the offseason with Carrie Underwood.
1 Comment:
texasstarfan said...

April 14, 2009 at 8:22 AM

 

Guess you were wrong the girls need something pretty to look at. Lucky pretty boy isn't he.

"When you make God the center of your life everything else, career and relationships, fall into place."

Looks like Mike is doing well in both areas.