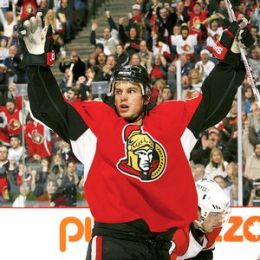 But first, let's start up with this whole Spezza spectacle. I am sick of writers like Bruce Garrioch and Don Brennan singling out one freaking player for a mere 2-1 loss to the Canes. It is simply unbearable knowing that we, beloved Sens fans, have to put up with this much $hit from these ballistic writers. I am sure 75% of Sens fans want to see Spezza stay indefinetly. Do I think it should be higher? Yes. But seeing dip$hit writers writing about pure bull, it really makes us fans and the whole team eventually bad. I said this in a previous blog, be lucky your team has made the playoffs 10 straight years. Imagine if you were a Blue Jackets fan or even worse, a Leafs fan. It is something we should value every day.
Now, let's start with some rumours. Vancouver is once again inquiring about Antoine Vermette. Vermette has 4 points in 14 games with a -2 plus/minus. Even though he has stepped up in physical play, he hasn't been good on the scoring front. Vancouver is offering Alex Burrows and Mike Brown for him. The Canucks believe that they need to get out of this Sundin Saga and with the Sedin Twins, Vermette could do plenty.
Or, this could be an ever bigger deal leading to Jacques Martin's team, the Panthers. Martin has had a crush on this guy since Day 1, and he wants a scorer on his team. We could see a trade like Vermette and Drew Fata for David Booth or Stephen Weiss.
Gamenight is tomorrow on TSN, let's kick some Habitants butt! Full analysis tomorrow.
Thanks For Reading!!!
0 Comments: